Mercedes Benz Certified Auto Body Repair

Mercedes me
Do you know about Mercedes me?
With Mercedes me, you can access your vehicle from anywhere. Depending on your model, you can start the engine, lock or unlock the doors, track your vehicle and more. You can even activate certain features using Google Home or Amazon Alexa.
Click on the Mercedes me icon to the right to connect to he MBUSA website to register.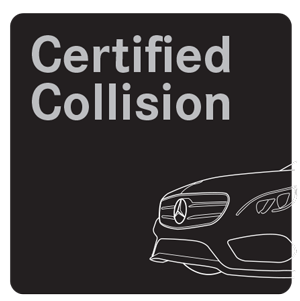 Mercedes Benz Certified Collision Centers help ensure your vehicle's repairs are made with deft precision. Using only Genuine Mercedes-Benz Parts for repairs, our technicians restore your vehicle as close to its pre-accident condition as possible. With a range of approved tools, equipment and repair methods, a Mercedes-Benz Certified Collision Center has what it takes to bring your vehicle back to its pre-collision condition. Discover what it means to engage a Certified Collision Center right here at Metro Auto Body, Inc. Metro Auto Body Inc has been built on a foundation of excellence and ethical business practices. We strive to provide the highest-quality repair for our customers. Our state-of-the-art facilities and certified technicians give us the ability to achieve this Certified status for all Mercedes-Benz automobiles. This certification from Mercedes Benz supports our reputation for superior customer service serving our community. We are your neighbors and friends, so it is important to provide our customers with the peace of mind that their Mercedes Benz vehicles are being repaired correctly by highly trained professionals that care about them.