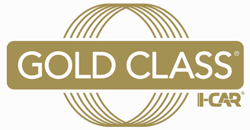 Metro Auto Body has achieved I-CAR Gold Class. I-Car's Gold Class is the highest role-relevant training achievement recognized by the collision repair industry. In order to earn I-Car Gold Class certification, shops must achieve and maintain a high level of role-relevant training across each of the major collision repair roles.
Collision Repair
Our collision repair department is equipped with the latest in auto repair technology, with an emphasis on quality. That's why we proudly use Car-O-Liner collision repair components and work with a team of certified specialists and technicians to make sure that your vehicle meets the requirements of the manufacturer. Metro Auto Body Inc. provides a wide-range of auto body repair services for most vehicles, and our complimentary evaluation process ensures that all repair issues are attended to.
Excellent collision repair is not just making sure that a vehicle is back to its original condition, it's also making sure that the vehicle is safe and road ready. Our process beings with the evaluation of the vehicle to understand what repairs are needed and how long it takes. The vehicle is then dismantled to ensure that full evaluation of the extent of damage is performed. Depending on the extent of the damage, the vehicle will pass through several phases of assembly and repair until it is ready to be polished, painted, waxed and road-ready. We perform dent, frame, bumper and complete external damage repair. Our turnaround time is typically 3 – 5 business days.
Perfect Color Match Painting
Over 50+ years of experience in the industry
Preparation and painting is performed in our Spray Bake spray booth
We use a highly sensitive computerized paint matching to custom mix make the perfect sophisticated colors to match your vehicle.
Careful attention to detail and thorough inspection of finished painting assures lasting coat and protection.
We use a water-based process that ensures extended protection
Environmentally-friendly paint that exceeds current standards.
Certified by PPG Matrix Paint
Our refinish techs are PPG certified

Back To Factory Specifications
Our Car-O-Liner frame/ measuring system uses a computerized laser measuring system to ensure that the vehicle's chassis/ frame is within the manufacturer's specifications.
The unsurpassable BenchRack™ combines drive-on convenience with a hydraulic lift and removable ramps. Add to this the tilt feature, which makes loading easier when approach space is limited, makes this the most versatile repair bench available and will be able to repair any collision damaged vehicle, from slight cosmetic work to full-frame repairs. The BenchRack™ systems are designed for any type of unibody or full frame vehicle, from small cars to light trucks, vans and SUVs.